The Vineyard
Geography and Geology
Clos de Gamot is a 15-ha vineyard with a unique variety of vines, the Malbec, located on a wonderful terroir calcareous clay-siliceous, with pebbles and flints.
The vineyard is located on the second and third Lot's terrace, which comes from the Massif Central (pebbles, gravel, quartz, …) and the alluvium of the Lot. A strip of red clay is crossing the vineyard and gives some exceptional properties to this terroir.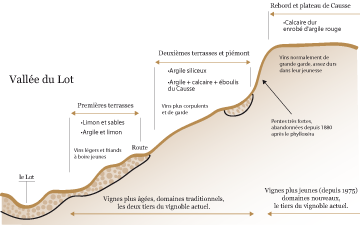 cliquez sur l'image pour l'agrandir
Climat and Microclimat
The geographical situation of Cahors brings some complexity to our wines. In fact, we received multiples influence: oceanic, Mediterranean (with the Autan Wind) and continental.
Moreover, the vineyard is in a very encased meander of the Lot river, which brings an exceptional microclimate. Indeed, we have an important amplitude in terms of temperature during the summer, which allow to keep a great freshness to our wines.